Cost of Dental Implants: What's the Deal
Despite their expense, dental implants are unquestionably one of the most effective solutions for restoring tooth roots and securing false teeth. Dental implants are essentially permanent supports that can sustain your smile permanently.
You may find that the cost of dental implants is significantly less for individuals of certain nationalities than for those of other nationalities and nations. In most circumstances, dental implant expenses in poorer nations are lower than in more technologically advanced nations.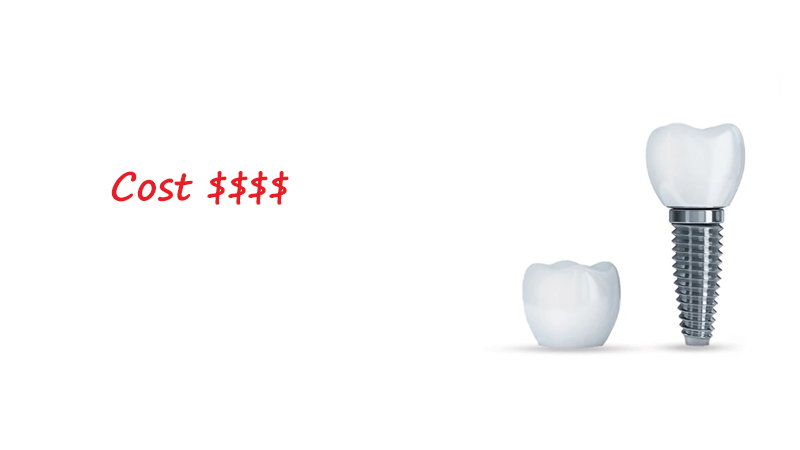 Dental implants have altered the lives of millions of individuals throughout the world. Their ability to imitate natural teeth is so remarkable that patients tend to forget they've had implants.
When a patient's original tooth cannot be salvaged, a dentist offers numerous alternatives. Implants are the most efficient treatment option. It requires little upkeep and can endure forever.
The expense of dental implants causes many people concern. However, conserving money on dental restoration procedures now could diminish your future quality of life.
Let's discuss the average price of dental implants so that it doesn't come as a surprise.
We'll discuss:
What is the cost of dental implants?

The cost breakdown for dental implants

If dental insurance covers implants

Methods to afford dental implants

If dental implants are an investment worth making

What is the cost of dental implants?
The average price of dental implants is between $3,000 and $5,000. It includes the placement of the post, abutment, and crown. The costs for bone grafting, tooth extraction, CT scan, and X-ray are separate. In addition, the cost is dependent on the following variables:
Experience – The more experienced a dentist is, the more they are likely to charge, as dealing with top-tier dentists reduces the likelihood of complications.
Implants are often composed of titanium or zirconium. The price of these materials is determined by their quality.
If you require additional preparation treatments, such as tooth extraction, sinus elevation, and bone grafting, the overall cost of dental implants will increase.
Laboratory — The price of the crown may vary depending on the laboratory with which your dentist works.
Location – The overall cost of dental implants may vary depending on the location of your dentist.
Individual qualities — Each instance of dental implants is very tailored. Therefore, the cost may differ amongst patients.
Cost Breakdown for Dental Implants
Post — $1,000 — $3,000
Abutment and crown – between $1,000 and $3,000
Bone grafting — $200 — $3,000 (depending on how complex the procedure is)
Tooth extraction costs between $75 and $600. (Depending on complexity)
CT Scan: $250 to $1,000
X-ray — $20 — $200
These costs represent the national average.
It is essential to realize that with proper maintenance, dental implants can last a lifetime. By spending time and money on them now, you save yourself a great deal of future stress and work.
The treatment has a higher ROI (Return on Investment) than other solutions for replacing lost teeth. In contrast to dentures and dental bridges, they do not require the modification of good teeth or routine replacement. With dental implants, eating and speaking do not require practice. They mimic the sensation of actual teeth.
Does Dental Insurance Cover Implants?
In most circumstances, dental insurance doesn't cover dental implants. Some providers may give partial implant crown coverage.
Even though dental implants are becoming increasingly popular due to their efficacy, insurance companies continue to view them as elective procedures. Over time, insurance providers are expected to acknowledge the advantages of dental implants over alternative tooth replacement choices.
If your insurance does not cover dental implants (or just pays a small percentage), you could request an allowance equal to the cost of a dental bridge or conventional dentures.
According to Investopedia…Opens in a separate window the website for Investopedia…
The best dental insurance plans that include dental implants are:
Delta Dental Insurance

Denali Dental

Spirit Dental & Vision

Ameritas

Cigna Dental
Instead of opting for less expensive procedures, you can finance dental implants by exploring these and related options. It is essential to research dental insurance companies in advance, as acceptance for some policies may take time.
How Is It Possible to Afford Dental Implants?
If your dental insurance does not cover implants and you do not have the time or ability to transfer providers, there are a few alternative options to pay for the process.
Dental Loans
Dental loans are unsecured loans that can be used to finance costly operations such as dental implants. When selecting a dental loan to cover your implant, you should consider the following factors:
Annual percentage rate
Added charges
Approval time
Requirements (minimum income, credit score, etc.)
You may also like to explore CareCredit.
This healthcare credit card includes a number of implant coverage options.
Take the time to comparison shop for the optimal answer.
Internal Payment Plans
Numerous dentists provide in-office payment arrangements. Each case is individually negotiated. Typically, these plans are more reasonable than loans. They are also simpler to install.
Small payments are made toward the remainder until the total cost of the implant procedure has been covered.
FSA, HRA, or HSA
If not installed for cosmetic reasons, dental implants are acceptable expenses for your FSA (Flexible Spending Account), HRA (Health Reimbursement Account), and HSA (Health Savings Account) accounts.
If you have one of these accounts established, you can lessen the financial burden of implant placement.
Why are dental implants an investment worth making?
Dental implants are currently the most effective way to replace missing teeth. People who select dental implants can eat, smile, and speak normally without experiencing any difficulty.
Patients who are overwhelmed by the expense of dental implants might select either dentures or dental bridges as an alternative.
Unfortunately, both of these alternatives have significant drawbacks:
Dental bridges – To install a bridge, healthy teeth must be reduced. Rarely is it an effective remedy when more than two adjacent teeth are absent. Cleaning dental bridges is tricky.
Dentures require some time to adjust to (speaking and eating require practice). They require careful attention and prompt replacement. Infections of the gums may be the result of improper installation. Dentures that do not fit properly make it difficult to speak, eat, and smile.
Both options may result in additional tooth and gum problems over time. They must also be replaced frequently. Even while the initial cost of implants is expensive, you may end up spending far more in the long run on the maintenance of bridges and dentures, as well as any additional problems they may bring.
It is important to note that not all patients qualify for dental implants. Discuss your eligibility with your dentist.